Research Highlights
Vol.16, September 2019
Enhancing the delivery of nucleic acid drugs for cancer treatment
Nucleic acid drugs are next-generation drugs that can be used as therapeutic candidates for various intractable diseases, such as cancer, with oligonucleotide structures constituting DNA and RNA as active ingredients. Due to their unstable nature in vivo, nucleic acid drugs are often encapsulated within nanoparticles before injecting into the body. This nanoparticle formulation, however, has the drawback of inaccessibility to intractable tumor tissues, including fibrotic pancreatic cancer and brain tumor. Now, a team led by Kanjiro Miyata at The University of Tokyo and Kazunori Kataoka at the Kawasaki Institute of Industrial Promotion, has designed a polymer that stabilizes nucleic acid drugs, eliminating the need for nanoparticles.
The research team engineered a Y-shaped polymer with a regulated number of positive charges that perfectly matches that of negative charges on nucleic acid drugs. They then employed siRNA, a representative of nucleic acid drugs, to test the interaction between the two. As expected, the two molecules bound dynamically together, forming an "ion-pair" when injected into the bloodstream of mice. Additionally, siRNA was found to circulate in the blood much longer when coupled to the polymer. To test the ability of this pair to target cancer tissues, it was intravenously injected into mice with pancreatic tumors. While its accumulation in non-cancerous tissues such as the liver was marginal, siRNA coupled to the polymer showed extremely high accumulation in the tumor tissue.
siRNA shows the therapeutic activity by silencing disease-related genes in the cell.
Therefore, to determine the functionality of the ion-pair, siRNA specific to a cancer-related gene, PLK1, was used. PLK1 was indeed suppressed within the pancreatic tumor cells, impeding the growth of tumors. Much better therapeutic results were observed in brain tumors. Antisense oligonucleotide, another kind of nucleic acid drugs, successfully accumulated the brain tumor tissue when coupled to the polymer. It also suppressed TUG1, a gene responsible for promoting the growth of brain tumors, dramatically improving the survival of the tumor-bearing mice.
The research team is confident that the feasibility of the present formulation (the ion-pair between Y-shaped polymer and nucleic acids) was demonstrated for cancer-targeted nucleic acid delivery, although its utility should be further examined in more types of cancer models for clinical use. "[It] demonstrates the strong potential for the systemic use of oligonucleotide therapeutics against intractable cancers with tight access barriers", they conclude.
Word count: 315
Reference and Affiliations:

Sumiyo Watanabe1,2,3,13, Kotaro Hayashi4,13, Kazuko Toh4,13, Hyun Jin Kim 1,13, Xueying Liu4, Hiroyuki Chaya1,5, Shigeto Fukushima4, Keisuke Katsushima6, Yutaka Kondo6, Satoshi Uchida7, Satomi Ogura4,5, Takahiro Nomoto8, Hiroyasu Takemoto8, Horacio Cabral7, Hiroaki Kinoh4, Hiroyoshi Y. Tanaka9, Mitsunobu R. Kano9,10, Yu Matsumoto1, Hiroshi Fukuhara11, Shunya Uchida2, Masaomi Nangaku3, Kensuke Osada7, Nobuhiro Nishiyama8, Kanjiro Miyata1,5,14 & Kazunori Kataoka4,12,14. In vivo rendezvous of small nucleic acid drugs with charge-matched block catiomers to target cancers. Nature Communications 10 (2019)
Center for Disease Biology and Integrative Medicine, Graduate School of Medicine, The University of Tokyo, 7-3-1 Hongo, Bunkyo-ku, Tokyo 113-0033, Japan.
Division of Nephrology, Department of Internal Medicine, Teikyo University School of Medicine, 2-11-1 Kaga, Itabashi-ku, Tokyo 173-8605, Japan.
Division of Nephrology and Endocrinology, Graduate School of Medicine, The University of Tokyo, 7-3-1 Hongo, Bunkyo-ku, Tokyo 113-8544, Japan.
Innovation Center of NanoMedicine, Kawasaki Institute of Industrial Promotion, 3-25-14 Tonomachi, Kawasaki-ku, Kawasaki 210-0821, Japan.
Department of Materials Engineering, Graduate School of Engineering, The University of Tokyo, 7-3-1 Hongo, Bunkyo-ku, Tokyo 113-8656, Japan.
Division of Cancer Biology, Nagoya University Graduate School of Medicine, 65 Tsurumai-cho, Showa-ku, Nagoya 466-8550, Japan.
Department of Bioengineering, Graduate School of Engineering, The University of Tokyo, 7-3-1 Hongo, Bunkyo-ku, Tokyo 113-8656, Japan.
Laboratory for Chemistry and Life Science, Institute of Innovative Research, Tokyo Institute of Technology, R1-11, 4259 Nagatsuta, Midori-ku, Yokohama 226-8503, Japan.
Department of Pharmaceutical Biomedicine, Okayama University Graduate School of Medicine, Dentistry, and Pharmaceutical Sciences, 1-1-1 Tsushima-naka, Kita-ku, Okayama-shi, Okayama Prefecture 700-8530, Japan.
Department of Pharmaceutical Biomedicine, Okayama University Graduate School of Interdisciplinary Science and Engineering in Health Systems, 1-1-1 Tsushima-naka, Kita-ku, Okayama-shi, Okayama Prefecture 700-8530, Japan.
Department of Urology, Kyorin University Faculty of Medicine, 6-20-2 Shinkawa, Mitaka, Tokyo 181-8611, Japan.
Institute for Future Initiatives, The University of Tokyo, 7-3-1 Hongo, Bunkyo-ku, Tokyo 113-0033, Japan.
These authors contributed equally: Sumiyo Watanabe, Kotaro Hayashi, Kazuko Toh, Hyun Jin Kim.
These authors jointly supervised this work; Kanjiro Miyata, Kazunori Kataoka. Correspondence and requests for materials should be addressed to K.M. (email: miyata@bmw.t.u-tokyo.ac.jp) or to K.K. (email: kataoka@ifi.u-tokyo.ac.jp)
Figure: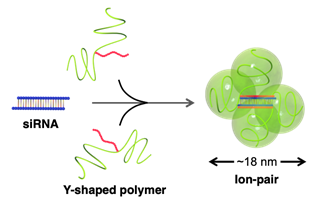 Ion-pair formation between the Y-shaped polymers and siRNA