2015.09.03
Johnson & Johnson K.K.
First Anniversary of Tokyo Science Center, a Training Center for Healthcare Professionals
- The number of visitors from home and abroad exceeds 22,000 -
August 6, 2015 marked the first anniversary of the Tokyo Science Center (TSC), a research and training center for healthcare professionals located in Kawasaki City, Kanagawa Prefecture, which was established by Johnson & Johnson K.K. Medical Company (J&J: Headquarters: Chiyoda-ku, Tokyo; President: Tamotsu Hiiro).
Located in the "KING SKYFRONT" Tonomachi International Strategic Zone which is also designated as a National Strategic Special Zone, TSC is equipped with state-of-the-art medical facilities including simulation equipment for minimally-invasive surgical procedures and training simulators for cardiovascular/musculoskeletal disease treatments as well as video conference systems.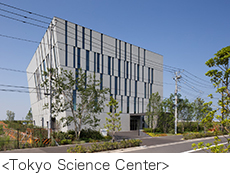 During the first year of its operation, TSC received over 22,000 visitors (as of July 31, 2015), which far exceeded the number of 10,000 visitors expected for the year. The context is the spread of endoscopic surgery with reduced patient burden which led to an increasing interest among healthcare professionals in related medical devices and training. The number of endoscopic surgeries increased threefold in ten years: from approximately 60,000 in 2003 to 180,000 in 2013.* Specifically, since endoscopic surgery is more technically challenging than open surgery, demand for training to acquire safe and appropriate techniques has been increasing. TSC offers a training environment equivalent to a practical clinical setting, which uses artificial organ models developed in collaboration with a Japanese company.
•* "The 12th Questionnaire Survey on Endoscopic Surgery," Japan Society for Endoscopic Surgery (September 2014)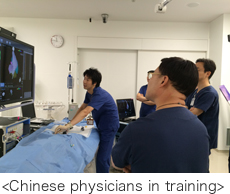 With respect to the percentage of visitors by department, general surgery which is directly involved in surgery accounted for over 50% with the remaining occupied by orthopedics, neurosurgery, obstetrics and gynecology, cardiovascular surgery, thoracic surgery, urology, cardiology, diabetes, etc. Based on a wide product range of J&J which covers diverse fields of medicine, TSC offers a wide array of training programs including endoscopic/thoracoscopic surgery program, orthopedics program using an X-ray system, endovascular treatment program using an X-ray angiography system (cardiac catheterization room), and diabetes program for promotion of care, thereby attracting physicians of diverse departments.
Meanwhile, regarding the percentage of visitors by profession, almost 30% was occupied by those other than physicians (e.g. nurses). Amid the growing importance of interdisciplinary approach toward comprehensive care, it is essential for physicians to work closely with other healthcare professionals to effectively utilize medical devices which are becoming more sophisticated and complicated. TSC, with its advanced facilities and diverse training programs, addresses these needs.
From a geographical perspective, TSC received visitors not only from all over the country, but also from overseas, mainly from Asian countries, thanks to the beneficial location of KING SKYFRONT which offers ease of access to the Haneda International Airport and TSC's unique international programs for healthcare professionals both at home and abroad. Meanwhile, there are many physicians of Asian countries who hope to learn globally highly rated techniques of Japanese surgeons. Hence TSC also offers programs implemented in English in which physicians/researchers can learn and exchange ideas.
Through diverse programs for healthcare professionals, TSC continues to promote safe and appropriate use of medical devices, thereby making patients feel at ease about receiving advanced medical care.
[Johnson & Johnson K.K. Professional Education Official Website]

On the occasion of the first anniversary of the Tokyo Science Center, the Professional Education website has been renewed.

http://www.jnj.co.jp/group/profed/
[Facility Overview]
Name
Johnson & Johnson Tokyo Science Center (TSC)
Address
3-25-19 Tonomachi, Kawasaki-ku, Kawasaki-shi, Kanagawa
Site area
2,942 m2
Total floor space
Approx. 4,858 m2
Center Chief
Toshikatsu Goto
Number of stories
4 stories above ground
Completion date
Completed on May 16, 2014; starting full-scale operation on August 6, 2014

(Awarded the "21st Kawasaki City Urban Landscape Formation Collaborators Award" on March 19, 2015)
Facilities
Surgical simulation rooms, seminar rooms
Number of staff
Approximately 20
Mission & Principles
To share subtle techniques of Japanese healthcare professionals and knowledge on advanced medical technology both domestically and overseas by utilizing high quality medical devices and medical technology offered by J&J, thereby making the Tokyo Science Center a life innovation hub not only in Japan but also in Asia
 
knowledge on advanced medical technology both domestically and overseas by utilizing high quality medical devices and medical technology offered by J&J, thereby making the Tokyo Science Center a life innovation hub not only in Japan but also in Asia
Further information:

Contact: Kanatani/Kojima, Communications


Johnson & Johnson K.K. Medical Company

TEL: +81-3-4411-7155 / FAX: +81-3-4411-7869