Yokohama City, Kawasaki City Industrial Promotion Foundation (Kawasaki City), Kihara Foundation in Pacifico Yokohama
"Yokohama / Kawasaki Pavilion" will be set up at BioJapan 2021, one of the largest partnering events in Asia.
We are looking for companies to exhibit at this pavilion. Please consider exhibiting as an opportunity to promote your technology and develop sales channels!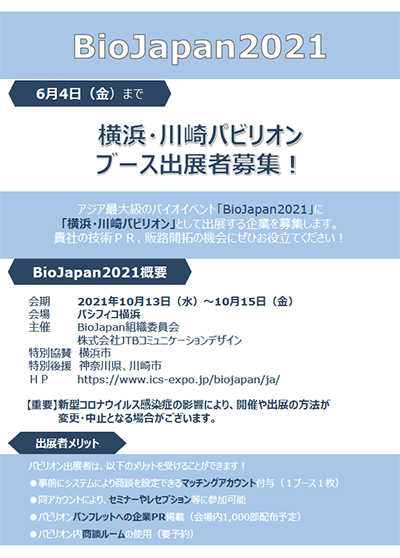 Click here for PDF

Date: October 13th (Wednesday) -October 15th (Friday), 2021
Venue: Pacifico Yokohama

● Exhibition fee
SME fee: 80,000 yen / booth
General fee: 100,000 yen / booth
1 booth includes 1 matching account
When the exhibition is canceled (before or after the session) due to force majeure.
The exhibition fee paid for the exhibition is required until then, such as public relations material creation costs and decoration setup costs.
We will deduct the expenses you have made and refund you.
● Exhibition conditions: Companies that meet all of the following three conditions
・ Companies whose head office or business office is located in Kanagawa Prefecture
・ In principle, companies that do not exhibit at BioJapan2021 other than "Yokohama / Kawasaki Pavilion"
・ Companies that develop products and provide services in-house
(Not possible if you are only a sales agent)
● Application deadline
Friday, June 4, 2021
● How to apply
[Application form] We will send an exhibition application form to those who make inquiries.
Or download it from the LIP. Yokohama BIBLIO website.
[Application] Please send the following 2 files by email.
① Application form_stamped PDF data
② Application form_word data before stamping
[Application]
To the Kihara Foundation (Yokohama / Kanagawa Pavilion Secretariat)
Email: biblio@kihara.or.jp
Please enter "BioJapan 2021 Exhibit Application Company Name XX" in the subject line.
● Notes
・ The holding and exhibition methods have changed due to the effects of the new coronavirus infection.
It may be canceled.
・ If there is no application for a certain number of exhibitors, the installation of the pavilion will be postponed
You may be asked to do so.
・ For details on exhibiting at the pavilion, please refer to the "Exhibition Application Guidelines" on the leaflet.
● Inquiries
BioJapan2021 Yokohama / Kawasaki Pavilion Secretariat
Kihara Memorial Yokohama Foundation for Life Sciences (Watanabe in charge)
Telephone: 045-502-4810
Email: biblio@kihara.or.jp