A type of immunodeficient mouse has demonstrated development of functional human immune system cells for the first time, providing a valuable model for studying allergic and immune diseases and treatments.
Researchers have been active in the generating 'humanised mice' for two decades. By reconsitituting human immune systems in immunodeficient NOG mice, these humanised mice may provide model systems to study human diseases including cancer, infectious and graft-versus-host diseases. The knowledge gained can help towards the development of clinical drugs and treatments.
The researchers – a collaboration between the Central Institute for Experimental Animals, Keio University, Nihon University, and Sagamihara National Hospital in Japan – had previously successfully transplanted human stem cells for the blood cell regeneration system into severely immunodeficient mice. However the development of immune myeloid lineage cells, mast cells and granulocytes (a type of white blood cell) from these stem cells had been inefficient. Recent investigations have increasingly highlighted the role of these cells in allergic inflammatory reactions making humanised mouse models that produce them increasingly valuable for research.
The researchers hypothesised that the poor differentiation of stem cells into immune system cells might be due to an insufficient supply of cell signalling proteins – cytokines. They developed a type of immunodeficient mouse that expressed these cytokines and found these mice developed large numbers of human myeloid cells, granulocytes and mast cells. The cytokine expressing immunodeficient mice also developed strong allergic reactions in response to Japanese cedar pollen extract, as well as serum from patients who suffer allergic rhinitis when in contact with cedar pollen.
In their report on the work the researchers conclude, "These models will enable the analysis of cellular and molecular mechanisms responsible for allergies and may become useful tools for developing antiallergy drugs in the near future."
Publication and Affiliation
Ryoji Ito1,2, Takeshi Takahashi1, Ikumi Katano1, Kenji Kawai1, Tsutomu Kamisako1,
Tomoyuki Ogura1, Miyuki Ida-Tanaka1, Hiroshi Suemizu1, Satoshi Nunomura3,
Chisei Ra3, Akio Mori4, Sadakazu Aiso2, and Mamoru Ito1 Establishment of a human allergy model NOG mice using human IL-3/GM-CSF -transgenic. Journal of Immunology, 54, 2741-2749, (2011).
Central Institute for Experimental Animals, Kawasaki-ku, Kawasaki, Kanagawa 210-0821, Japan
Department of Anatomy, Keio University School of Medicine, Shinjuku-ku, Tokyo 160-8582, Japan
Division of Molecular Cell Immunology and Allergology, Nihon University, Graduate School of Medical Science, Itabashi-ku, Tokyo 173-8610, Japan
National Hospital Organization, Sagamihara National
Hospital, Clinical Research Center, Minami-ku, Sagamihara, Kanagawa
252-0315, Japan
*corresponding authors, e-mail address:mito@ciea.or.jp
Figure: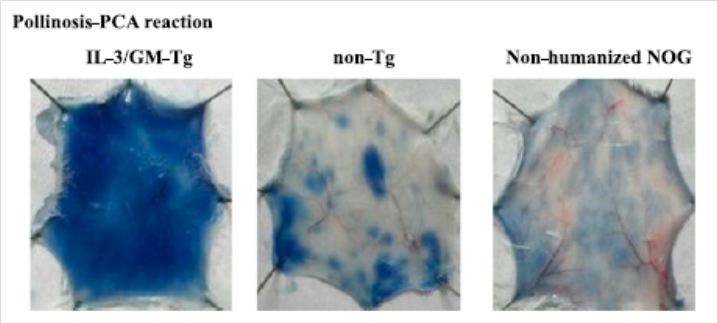 Skin responses to serum from Japanese cedar pollinosis patients. The allergic response was induced and highlighted with Evans blue dye. Dorsal skins were isolated from the mice 30 min after systemic administration of a Japanese cedar pollen extract and Evans blue dye. Left – cytokine expressing humanised transgenic NOG mice; middle humanised non-transgenic NOG mice; right – nonhumanised NOG mice. Representative images of the dorsal skins are shown.